Solo Leveling
Heavily focused in Caernarvon, the monsters in this particular location can be taken down alone
by any Warfarian.
Head over to the location specified in the map for the monsters that you will have to farm for EXP.
Take note:
These monsters drop certain valuable materials that you can sell for medalsor use them for
your item enhancements.
You can't hunt these monsters in peace party mode. So, be aware as you might be hunted
down as well.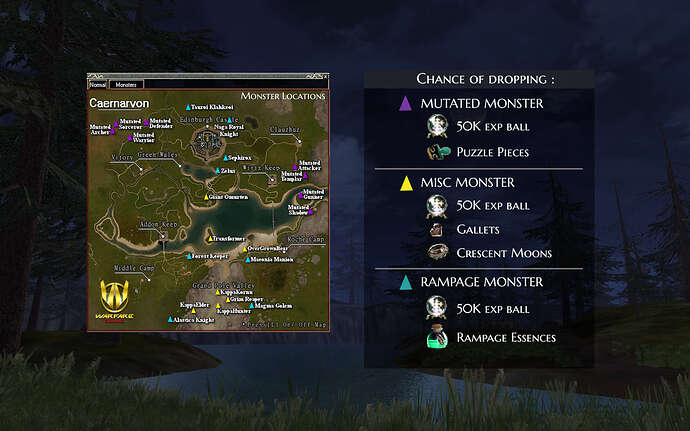 ---
While you are working with your leveling, these monsters have a chance to drop an Experience Crystal Ball. The EXP that you get from them varies, all you need to do in order to use them is to (right click) on the Experience Crystal Ball and you will obtain the specific EXP from it.
These group of monsters are located in Caernarvon:
Mutated Warrior

Mutated Archer

Mutated Templer

Mutated Attacker

Mutated ShadowOff

Mutated Gunner

Mutated Defender

Mutated Sorceror
List of Items that may drop:
• 50K EXP Ball
• Puzzle Pieces
---
These group of monsters are located in Caernarvon:
KappaElder

Grim Reaper

Overgrown Bear

The Undead

Giant Omurten

Transformer
List of Items that may drop:
• 50K EXP Ball
• Gallets
• Crescent Moon
---
These group of monsters are located in Caernarvon:
Allastica Knight

Magma Golem

Forest Keeper

Maeonia Manion

Zelus

Sephirox

Tauroi khalkeoi

Naga Royal Knight
List of Items that may drop:
• 50K EXP Ball
• Essence