Warfarians,
The hunt begins with puzzle pieces & stones scattered in possession of these bosses. To obtain the pieces, one will have to hunt and kill the bosses & mini bosses that have them. The puzzle & stone pieces must be completed for a worthy reward that one desires most, namely the Halcyon and the rarest of them all, the bloody, Bloodscarlet.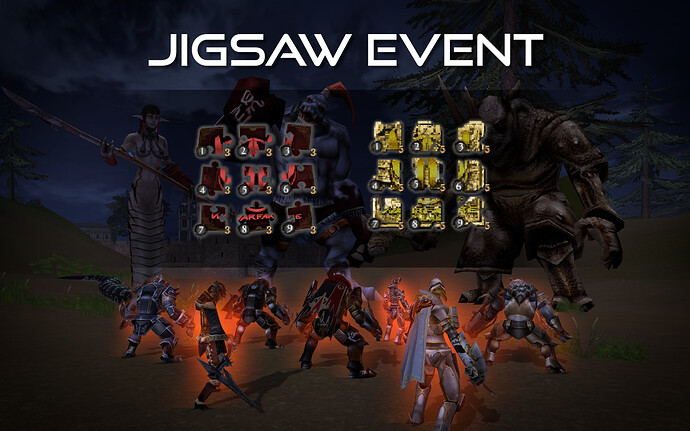 ---
Bosses & Mini bosses await their release by holding puzzle and stone pieces respectively in their possession. Many Bosses & Mini Bosses will spawn at once during spawn times that will be set & informed time to time. The event starts with the Hunt of The Diceros to begin with.
---
3 Puzzles in red, or 5 Stones in gold, made up of 9 jigsaw pieces each will be required to either obtain 3 pieces of Bloodscarlet or 3 pieces of Halcyon. Whichever is to be collected, the claim shall be done in the forums and all there will be, are 15 holders of these precious metals each.
Note:
Limited to 15 winners for Halcyon & 15 winners for Bloodscarlet
Only 45 Halcyon & 45 Bloodscarlet up for claims
---
"Riddle me this, riddle me that,
I am the first and second of your puzzling adventure ahead.
I will be in red, I will be in gold,
Kill the mighty Diceros for me I am told.
What am I??"

Warfarian Puzzles, Stones 1 & 2,
fellow Warfarians…
Hunt of the Diceros
The first contenders as mentioned, known to have armors so thick, are the Diceros possessing Warfarian Puzzle pieces 1 & 2 and Warfarian Stone pieces 1 & 2. The Diceros Bosses & Mini Bosses are said to make their appearance at 10PM & 11PM (GMT+8) on 11th & 14th of April 2022 ravaging their ways through the Abandoned Prison of Arcadia with these pieces of the jigsaw.
Let the jigsaw adventures begin!
---
CLAIM THE REWARD
Upon collecting & completing the Puzzles and/or Stones into a complete jigsaw, head to the following Claim Sections to claim respective rewards:
Visit this link to Claim Halcyon: Claim Jigsaw Event Reward : Halcyon
Visit this link to Claim Bloodscarlet: Claim Jigsaw Event Reward : Bloodscarlet
Note:
Claims will be rewarded on a first come first served basis
Claims will be open 22nd - 28th of May 2022
Claim rewards will be distributed to the winners on the 29th of May 2022