Warfarians,
Game server is back online! The Warfare Online Installer V2105 has been released and it brings several updates. With the recent migration of the game server to a datacentre which offers a better infrastructure, the overall in-game experience has been profoundly improved.
New Game Launcher
Bid farewell to the old game launcher which will no longer be accessible. Immerse in the game through the brand new game launcher now available with improved security features.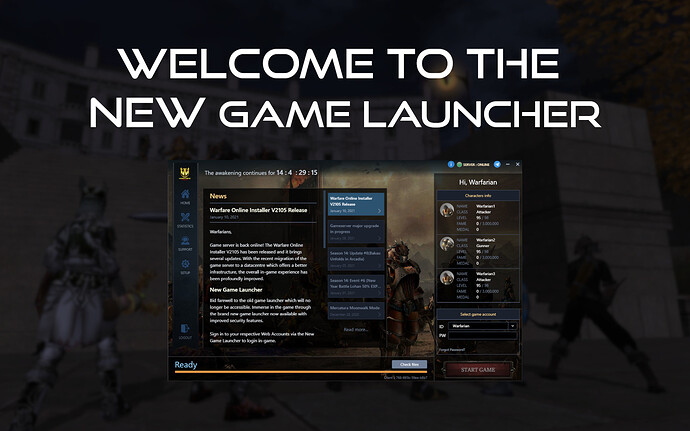 Sign in to your respective Web Accounts via the New Game Launcher to login in-game.
Enable 2FA via an authenticator app such as Authy which is faster than relying on SMS.
Follow this simple guide on How to enable 2FA via an Authenticator App?
If you have forgotten your web email or are facing other account related issues, visit the Recovery Centre to recover your details at: https://www.warfareonline.net/recovery
Misc updates
Reverted Annihilator set back to Yellowish Gold
Improved anti macro detection
Reduced overall in-game network latency
---
The Warfare Online Management thanks everyone for helping us with bug identifications and providing recommendations to improve our game play. If you would like to add a newly found bug in our current game version, feel free to check the threads here and post any additional data at: https://forum.warfareonline.net/c/bugs
Alternatively, chat with our support at https://www.warfareonline.net/support for any issues found.
Presenting Warfare Online Official Channels:
• Official Website: https://www.warfareonline.net
• Forum: https://forum.warfareonline.net
• Telegram: https://t.me/warfareonline
---
Please download and install the Warfare Online Installer V2105 in order to login in-game at:-