Pieces of 9, pieces of last,
The Hyla has it with something else at stash.
A Mysterious antique chest is up for grabs,
Which will fall into a worthy ones hands.
Hunt of the Hyla's
Warfarians,
The Hyla's, slick and deadly have the last pieces of the Warfarian Puzzle piece 9 and Warfarian Stone piece 9 . Along with these pieces of jigsaw is a very special chest known to have valuable items in its possession, the Mystery Antique Chest.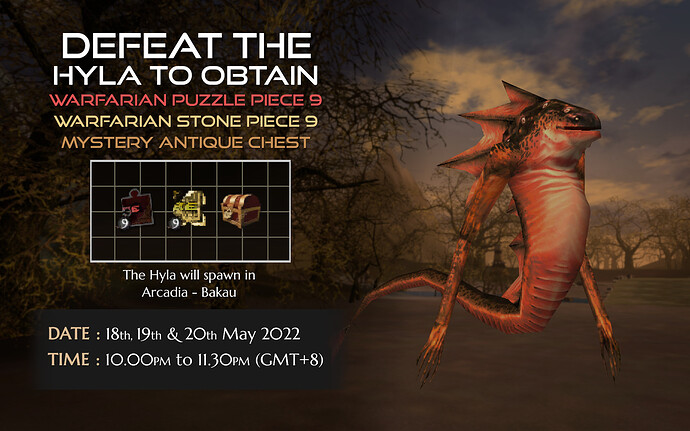 Bring down the Hyla Bosses & Mini Bosses at the swamps of Bakau as they appear 10PM to 11:30PM (GMT+8) on the 18th, 19th & 20th of May 2022. Spawning continuously between intervals with the final pieces of the jigsaw & the Mystery Antique Chest.
The Mystery Antique Chest which has fallen into the hands of the Hyla contains +5 jewelries many intend to have. It is known that this will allow one to +6 jewelries long desired. So gather the resources offered by bringing down the Hyla's.