Warfarians,
The time has come for the official shutdown of Warfare Online. This 27th of June 2022 11PM GMT+8, the Mercatura will host a gathering and everyone of you Warfarians are welcomed to join. Let us commemorate the last moments before the closure with this virtual gathering as after this, the game will not be accessible anymore.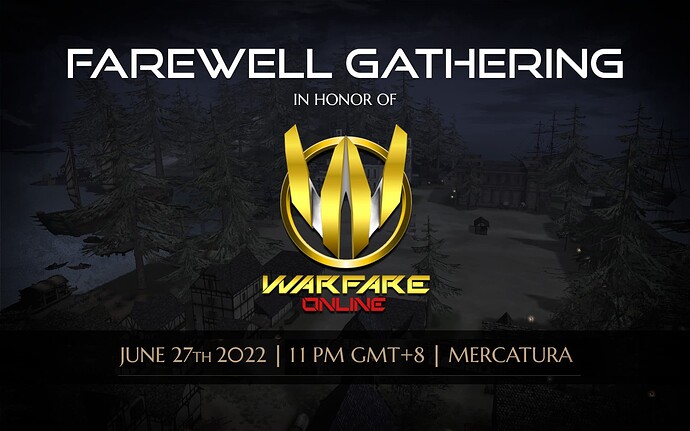 For one last time, feel the game and all its beauty with all it has offered over the past years. Full of emotions and vibes that it has given, they are indeed something that would be cherished for a lifetime. It is here many have found solace & it is with great respect we honor every one of you whom we proudly call, Warfarians.
| Event Timeline | |
| --- | --- |
| 11:00 PM GMT +8 | Logging into Warfare Online |
| 11:30 PM GMT +8 | Picture session |
| 11:55 PM GMT+8 | Countdown to Shutdown |
| 11:59 PM GMT+8 | Warfarians Disconnected From Game Server |
---
Note: Warfarians will not be able to access the game server after the gathering. Visit this link to learn further on the Preparation For Web Account Transfer Registration which guides how to list the items in your web account.