NEWBIE DEFENDER: HIGH EXTRA DEF, RUN FAST, STUN FOR ESCAPE, BUT LOW DAMAGE
Hi g4ys, i'm new here, but I have been play RYL since I was born.

Character Name:
-SALVADOR-
Class :
Defender
Level :
95
Class Stats :


STR 161 (minimum requirements)
DEX 204 (run and skill cooldown fast)
CON 168 (possible to use +7 NPC beginner weapon)
INT 20
WIS 20
Skills :

Pummel 4-6
(Possible to stun enemy when use con weapon)

Bloody Moon 4-6
(very large damaged area, good for farm medal in war)

Burden of Life 4-6
(the highest damage received by a very strong enemy during the war)

Bludgeon Mastery 4-4
(add damage for con weapon)

First Aid 1-1 (To help purifying humans when they were stunned by akkan)
Equipment :
When you haven't had time to farm, just buy equipment at the Beginner Merchant.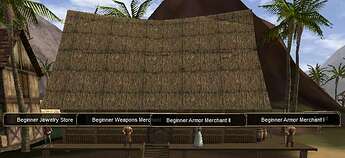 WEAPON

ARMOR

Can choose one according to taste, all have same status.
BOOTS

Choose con boots and glove add higher extra defense than dex
HELMET

All beginner helm have same status
JEWELRY

Use Ring of Warfare give more extra defense
Potions :



Candy : Recover 1500 Hp and MP
Healing Tonic (M) : 40% HP Recovery
Arena Tonic (M) : 20% HP and MP Recovery
Magic Tonic (M) : 30% MP Recovery
Defense Tonic (M) : +8 Def & Extra Def 180 sec
Strengthen Tonic (S) : +6 Attack
Attack Tonic (M) : +8 Attack & Extra Attack
Dispel Tonic (M) : Dispel all magic effect *optional
War Strategy :
Try to join a party during the war to get more medals. If you are too noob to get a party, try playing solo : net, hit and run because you are not too strong to be a tank.
I join war for 2 hours by joining party and solo, and get 24k medals.