Greetings!
Here's an update regarding the roadmap and timeline of the New Game thus far.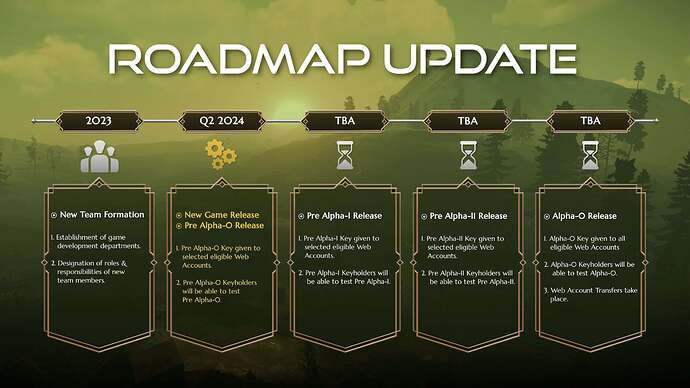 The timeline above may be subjected to changes
Following the dissolution of the Warfare Online team, a dedicated and specialized team has been freshly established this year to work on the New Game's development, leading to a projected Pre Alpha-0 release in Q2 2024.
The new team formation has undergone a meticulous and comprehensive process of acquiring expertise and talent, ensuring each team member is specialized in their roles to develop the New Game.
To offer an overview of the current areas of emphasis, here are the key responsibilities and contributions of this new team for the New Game.
Game Design Team:
World Lore Development
Character Backgrounds
Game Mechanics
Class Skills
Class Items
Combat Design
Technical Team
Game Mechanics
Game System Architecture
Server Infrastructure
User Interface (UI) Integration
User Experience (UX) Integration
Blockchain Integration R&D
Art Team:
Concept Art
Character Items Design
Environment Design
Visual Effects
Character Animation
Sound Design Team:
Ingame BGM
Sound effects
Foley
With this, the new team has effectively commenced their work and revised the Pre Alpha-0 timeline to Quarter 2 of 2024 as they lay the foundation for the New Game's development.