Warfarians,
Day 2 ended with both Kartefant guilds battling their way, for one has advanced to the Grand Finals which is the -TheFinale guild and the other, Z-Finale comes face to face with the Merkhadians of the Kasperskyz Guild today.
Day 3, the Semi Final Match : 16th of March 2022 at 8PM GMT+8 later will determine if the tactical Merkhadians of the Kasperkyz will proceed to the Grand Finals or the resilient Z-finale of the Kartefants will advance to the Grand Finals to battle their previous nemesis once again. Nevertheless, this match will decide the 3rd place of the entire Guild League with an exhilarating Grand Final in the waiting.
Will the grand final be a war between the Kartefants again? Or
Will it see the wrath of war between the Merkhadians & Kartefants?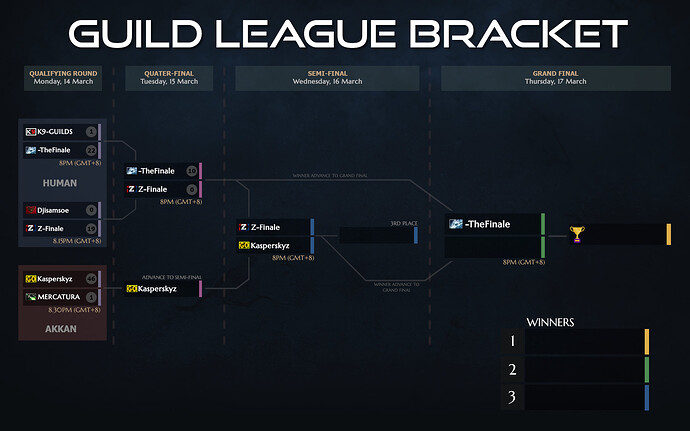 Note: Scores are displayed in the circles beside the name of the Guilds
---
Timetable
| Day 1 (14 March 2022) | Qualifying Round Match | Match Winner |
| --- | --- | --- |
| 8:00 PM GMT+8 | K9-GUILDS (31979) vs -TheFinale (31868) | -TheFinale (31868) |
| 8:15 PM GMT+8 | Djisamsoe (31866) vs Z-Finale (31870) | Z-Finale (31870) |
| 8:30 PM GMT+8 | Karsperskyz (31981) vs MERCATURA (31982) | Karsperskyz (31981) |
---
| Day 2 (15 March 2022) | Quarter Final Match | Match Winner |
| --- | --- | --- |
| 8:00 PM GMT+8 | -TheFinale (31868) vs Z-Finale (31870) | -TheFinale (31868) |
---
| Day 3 (16 March 2022) | Semi Final Match | Match Winner |
| --- | --- | --- |
| 8:00 PM GMT+8 | Karsperskyz (31981) vs Z-Finale (31870) | |
---
| Day 4 (17 March 2022) | Grand Final Match | Match Winner |
| --- | --- | --- |
| 8:00 PM GMT+8 | -TheFinale (31868) vs to be announced | |
Briefing

Standby for a PERSONAL MESSAGE (PM) that says "Your guild's turn has come, enter Almighty Land now" & enter the map
Ensure your guild members are ready in a party
There will be no waiting period upon entering the map and the match starts instantly

For more information on the Guild league Rules & Regulations, Mechanics & Rewards visit : Guild League [Beta] Launches