Warfarians,
The Guild League starts today, 14th of March 2022 at 8PM GMT+8 in the known land of battles against guilds, the Almighty Land. The first day of the 4-day-long league will take place to determine the strongest guilds that will advance to the next round!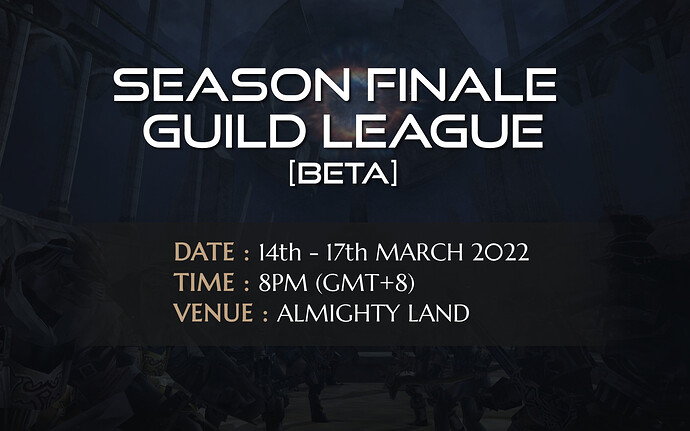 ---
Among the guilds that will participate in this Guild League are the K9-GUILDS, -TheFinale, Djisamsoe, Z-Finale of the Kartefants Race and Karsperskyz & MERCATURA of the Merkhadian Race.
The following guilds have been placed with their respective opponents with matches as per scheduled in the Guild League Bracket. For Day 1 of the Qualifying Round, Humans will battle Humans and Akkans will battle Akkans signifying one does not fight for his race here but his guild instead.
So, brace your armors and weapons Guilds! As tonight is the first battle night!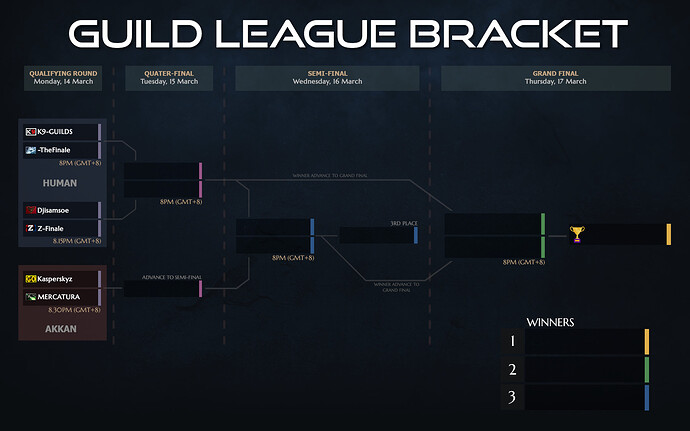 Note: Due to the participation of only 6 guilds, the guild league bracket has been revised in the most efficient way.
Timetable
| Day 1 (14 March 2022) | Qualifying Round Match |
| --- | --- |
| 8:00 PM GMT+8 | K9-GUILDS (31979) vs -TheFinale (31868) |
| 8:15 PM GMT+8 | Djisamsoe (31866) vs Z-Finale (31870) |
| 8:30 PM GMT+8 | Karsperskyz (31981) vs MERCATURA (31982) |
---
| Day 2 (15 March 2022) | Quarter Final Match |
| --- | --- |
| 8:00 PM GMT+8 | - |
---
| Day 3 (16 March 2022) | Semi Final Match |
| --- | --- |
| 8:00 PM GMT+8 | - |
---
| Day 4 (17 March 2022) | Grand Final Match |
| --- | --- |
| 8:00 PM GMT+8 | - |
Briefing

Standby for a PERSONAL MESSAGE (PM) that says "Your guild's turn has come, enter Almighty Land now" & enter the map
Ensure your guild members are ready in a party
There will be no waiting period upon entering the map and the match starts instantly

For more information on the Guild league Rules & Regulations, Mechanics & Rewards visit : Guild League [Beta] Launches