Warfarians,
Take a look at what's in store for Season 17 before its official release tomorrow, 4th of October 2021!
Halcyon, New Equipment Enhancing Metal
With a new beginning, a new discovery has come to light. A metal of mystifying powers, the Halcyon, named after its serene golden beauty is found. As mysterious it can get, the metal has manifest its true nature of granting a 100% success rate up to +8. Besides its absolute rarity and enhancing powers, the Halcyon has no iron rate making it one of the most gratifying metals.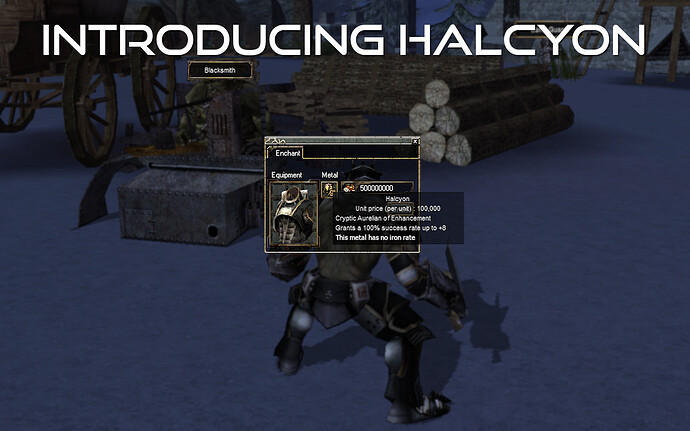 ---
Rewards of Season 17: The Salvator Set, Bluecorium & Halcyon
Season 17's reward represents salvation thus, the Salvator Set items…
The Salvator will be ready to fall in the arms of the ones who fight for their race… Together with the Salvator set as a reward is the enticing Bluecorium & Halcyon metals.
With the enhancement abilities both of it offers, many await for them to be in their possession.
Featuring Season 17's Rewards In Favor Of The Top 5 Ranks Of Each Class: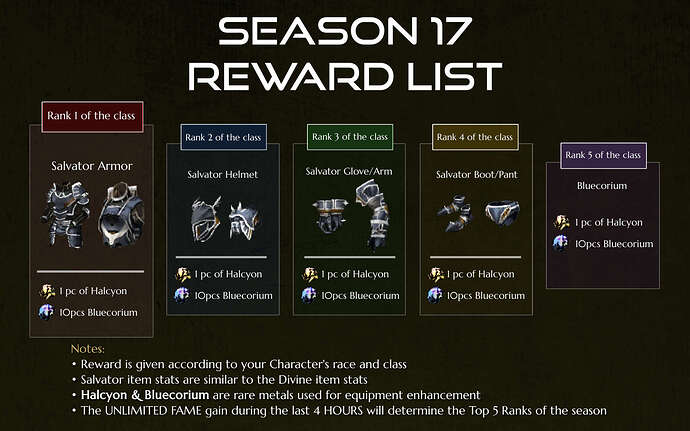 ---
Season 17's Fame Cap Schedule
To achieve the top ranks, keep up with the fame cap schedule that requires perseverance and dedication. Await for the war during the final 4 hours with unlimited fame cap that will serve as the final verdict to whom will be worthy of the Salvator items in Season 17.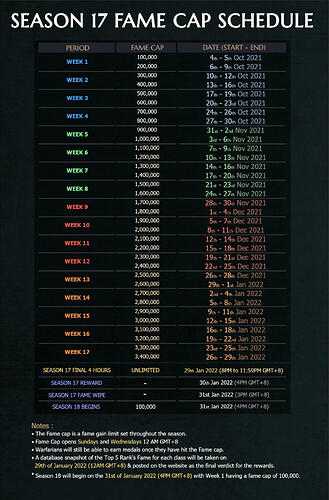 For future references, this schedule can be found in the Game Guides at this link: Fame Cap Schedule (Season 17)